We offer a wide range of products to suits any budget or taste. Whether you need traditional framed wood cabinets, contemporary frameless laminate cabinets, or anything in between, come in and visit us so we can discuss what fits your needs best. Our showroom has plenty of cabinetry displays and samples to help you find what you are looking for. We also have a wide selection of various countertop materials including laminate, solid surface, granite, quartz, cultured marble, and wood. By clicking on the logos below, you will be taken to the company websites so you can further explore their offerings and learn more about a specific product.

Shiloh cabinetry is an all wood semi-custom cabinet line which has an excellent quality to cost ratio. They offer true customization while still maintaining a competative price. They have a wide variety of stained and painted finishes available. Glazing, Highlighting, Distressing, and Rustic Species are available at no upcharge. They also offer features generally found only in custom cabinetry lines such as inset door styles, custom paint colors, and cabinet modifications down to 1/16". Shiloh has a wide selection of range hoods, custom vanities, and closet cabinetry in addition to the usual kitchen and bath offerings. The also offer an environmentally friendly construction through their Shiloh Choice line.
Holiday Kitchens is a true custom cabinet line. They offer several standard stains and paints, but have the capacity to do color matches or custom color mixes as well as laminate finishes. Cabinet construction is excellent with options for framed and frameless cabinetry. There are really no limits to what you can do with Holiday Kitchens. There are many wood species offered along with exotic veneers as well as laminates and thermofoils. For the environmentally conscious, Holiday's Live Green line offers many green choices for cabinetry.
Aspect cabinetry is produced by W.W. Wood Products, which is the same parent company as Shiloh cabinetry. The Aspect line focuses on value by limiting finish and wood selection as well as the cabinets being constructed with 1/2" particle board sides and wood face frames and doors instead of plywood. What gives Aspect an edge over most other competition in this category is that they use 1/4" plywood over the particle board on all finished sides, the center panels of their wood doors are solid wood (not MDF), cabinet sizes are customizable to 1/16", and glazing is free. The finishes are applied with the same methods used in the Shiloh line so you get a semi-custom level finish.
K & H cabinetry is a small custom factory from the heart of Pennsylvania Dutch country. They have a beautiful finish and excellent stain colors. Also, they use Conestoga doors, which allows for a more standardized door selection. They have the same types of offerings as most custom cabinet lines when it comes to construction, custom finishes, and a variety of wood species.
Waypoint Living Spaces a leading manufacturer of quality cabinetry. We consider this a stock line due to the fact that cabinetry must be designed to use stock door and drawer front sizes, but they do offer many customizations found in other semi-custom and custom lines. Cabinetry is available with all plywood construction. Lead times are relatively short (approx. 3-4 weeks, in general).
Kabinart is a stock cabinetry line in the same sense as Mid-Continent cabinetry with the exception that they only produce all plywood cabinetry. Kabinart offers oak, maple, cherry, and thermofoil cabinetry. Painted and glazed finishes are available as well.
| | | |
| --- | --- | --- |
| | Crystal cabinetry is a full custom cabinet line that is limited only by your imagination. They offer framed and framelss cabinetry in just about any wood or laminate that you could want. | |
| | | |

The following are the brands of countertop materials we carry. Please click on the logos to go to the manufacturer website. For a primer on the various countertop materials, please click here.
Quartz
Solid Surface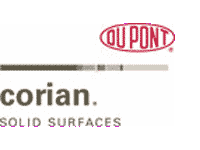 Laminate
Wood
Cultured Marble